Estrella Galicia 0,0
News: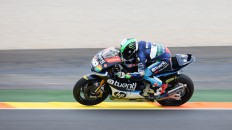 ,
Nach der letzten Runde der MotoGP™-Weltmeisterschaft wird heute Abend bei der FIM MotoGP-Preisverleihung in Valencia die Michael Metraux Trophy 2012  an Pol Espargaró und Alex Rins vergeben.
Mehr lesen »
Thursday, 1, January 1970
Estrella Galicia 0,0-Pilot Alex Rins verpasste nach einem ausgezeichneten Rennen auf Phillip Island das Podium nur äußerst knapp und stärkte damit seine Chancen, in Valencia die "Rookie of the Year"-Auszeichnung 2012 für sich zu beanspruchen.
Thursday, 1, January 1970
Der Podestfahrer Álex Rins des Grand-Prix-Rennens von Frankreich in der Moto3-Kategorie wurde gestern Nachmittag in Barcelona operiert, um die durch einen Sturz beim Monster Energy Grand Prix de France in Le Mans am Samstag erlittene Verletzung zu behandeln.