Estrella Galicia 0,0
News: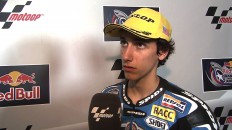 Thursday, 1, January 1970
Das Moto3™-Rennen am Sonntag für den Red Bull Grand Prix of the Americas war eine hoch dramatische Angelegenheit. Das Rennen wurde zunächst mit roter Flagge unterbrochen und kurz darauf als Fünf-Runden-Sprint erneut gestartet. Alex Rins triumphierte nach einem hervorragenden Kampf zum ersten Mal in seiner Grand-Prix-Karriere.
Mehr lesen »
Fotos: