Paul Bird Motorsport
News: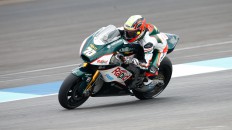 ,
Beim zehnten Rennen der MotoGP™ Weltmeisterschaft auf dem Indianapolis Motor Speedway punktete Michael Laverty zum ersten Mal 2014.
Mehr lesen »
Thursday, 1, January 1970
Nach einem Problem in der Anfangsphase musste Broc Parkes (Paul Bird Motorsport) die Iveco Daily TT Assen im Regen mit Slicks aufnehmen.
Thursday, 1, January 1970
Michael Laverty von PBM hat beim zweiten Lauf der MotoGP™ Weltmeisterschaft 2014 auf dem Circuit of the Americas als 16. knapp die Punkte verpasst.
Thursday, 1, January 1970
Broc Parkes, der Fahrer von Paul Bird Motorsport erzielte bei seinem Debüt in der Königsklasse der Grand Prix's einen Punkt, während ihm sein Teamkollege Michael Laverty in Losail auf dem 16. Platz folgte.
Paul Bird Motorsport Information:
Paul Birds Mannschaft hat in den nationalen Meisterschaften Großbritanniens und bei den Road Racings viele Jahre auf Top-Level agiert, zuletzt dann in der Superbike Weltmeisterschaft. Für PBM geht es 2014 in die dritte Saison in der Königsklasse des Motorradsportes: der Nordire Michael Laverty und der australische Rookie Broc Parkes werden die Fahnen der Truppe hoch halten.
Team Management
Paul Bird

Team Principal

Phil Borley

Technical Director
Michael Laverty Crew
Phil Borley

Crew Chief

Victor Morgado

Mechanic

William Meyers

Mechanic

Glen Preece

Tyre Technician
Broc Parkes Crew
Tom Larsen

Crew Chief

Dave Parkes

Mechanic

Tom Harrison

Mechanic
Bike Info

Engine

Aprilia 1000cc, V4 16 valve

Power

Over 220 hp

Top Speed

330 km/h

Chassis

PBM Twin-spar aluminium

Bike

PBM
Suspension

Front

Öhlins inverted front forks

Rear

Öhlins rear shock absorber
Brakes

Front

Two 320mm carbon front discs with four-piston callipers (Brembo)

Rear

Single stainless steel disc (Brembo)