Gran Premio Iveco de Aragón
News: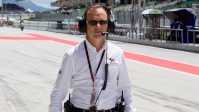 Tuesday, 1, October 2013
Javier Alonso, Dorna Sports representative of FIM Race Direction, talks of the decision to organise a hearing involving Marc Marquez and Dani Pedrosa following their incident in the Gran Premio Iveco de Aragón, explaining the possibilities of resultant sanctions or changes in the MotoGP™ regulations.
read more »
Motorland Aragón:
Circuit info
Length: 5.078 m / 3.155 miles
Width: 15m
Left corners: 10
Right corners: 7
Longest straight: 968 m / 0.601 miles
Constructed: 2009
Modified:
Introduction:
An ultra-modern facility, MotorLand Aragón had its roots firmly established thanks to a solid history of street racing in Alcañiz, which hosted events between 1963 and 2003. Safety advice warning against the continuation of this led to the proposal and construction of a sporting complex dedicated to motorsport.
With support from local institutions, renowned German architect Hermann Tilke was commissioned to design the facility. The circuit, which is 5.077km long and has 17 turns, was roundly praised by riders after its first Grand Prix in 2010, and it was rewarded with the IRTA Best Grand Prix of the Year award, the first time a circuit had received the prize in its debut year.
Sales for the %year %gp_name are not yet open.
Thank you for your interest. We will contact you when sales open.
Tickets are no longer for sale
2013 - Event Results
Podium
Records:
Pole Lap:
TEROL N.
1'53.812
160.6

Km/h

Fastest Lap:
Lap: 13
RABAT E.
1'54.288
159.9

Km/h
Podium
Records:
Pole Lap:
RINS A.
1'58.571
154.1

Km/h

Fastest Lap:
Lap: 3
OETTL P.
1'59.681
152.7

Km/h