G.P. Red Bull de la República Argentina
News: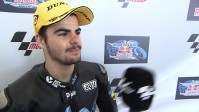 Tuesday, 29, April 2014
Two years on from his stunning win in Spain in just his second Grand Prix, Romano Fenati returned to the top step of the podium in Argentina with the Valentino Rossi-backed Sky Racing Team VR46.
read more »
Photos:
Autódromo Termas de Río Hondo:
Circuit info
Length: 4.806 m / 2.986 miles
Width: 16m
Left corners: 5
Right corners: 9
Longest straight: 1.076 m / 0.669 miles
Constructed: 2008
Modified: 2013
Introduction: The Termas de Río Hondo Circuit is located 6km from the city which gives the venue its name, in the Province of Santiago del Estero. It was built in a 150 hectare area and officially inaugurated on May 11, 2008, during the visit of Argentina´s Touring Car Racing championship. In 2012, the reconditioning, enlargement and modernization of the circuit began, with the purpose of turning it into Latin America's most modern, safe and vibrant circuit.
How to arrive
Termas de Río Hondo Circuit is located approx. 95 km from Tucuman International Airport, approx. 65 km from Santiago del Estero Airport and approx. 7 km from Termas de Río Hondo City Centre. Leave the accreditation centre and/or Termas de Río Hondo City Centre and take the Lascano street. Turn right and drive through Costanera Ave. Follow indications signs posted on the road GPS Circuit Entrance: 27°30'42.61"S, 64°55'13.26"W
Sales for the %year %gp_name are not yet open.
Thank you for your interest. We will contact you when sales open.
Tickets are no longer for sale
2014 - Event Results
Podium
Records:
Pole Lap:
RABAT E.
1'43.961
166.4

Km/h

Fastest Lap:
Lap: 21
SALOM L.
1'44.011
166.3

Km/h