Cardion ab Grand Prix České republiky
News: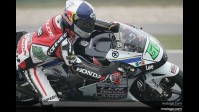 Wednesday, 22, August 2007
Determined to turn around his rookie season after a difficult adaptation to the 250cc class, Northern Irish rider Eugene Laverty was one of a selection of riders staying behind at Brno to undertake two days of testing.
read more »
Photos:
Automotodrom Brno:
Circuit info
Length: 5.403 m / 3.357 miles
Width: 15m
Left corners: 6
Right corners: 8
Longest straight: 636 m / 0.395 miles
Constructed: 1987
Modified: 1996
Introduction:
The world's most famous riders have taken part in GP events in Brno since 1930, where up until 1982 they would race through the villages and western parts of the city on a road track named after the first Czechoslovak President - T.G. Masaryk. A new circuit was built during the 1980s with the aim of attracting Formula 1 to Czechoslovakia, and in 1987 it played host to the FIM Czech Grand Prix. Popular with both fans and riders, the new circuit is built in a natural bowl which is banked in places to offer spectators an excellent view. Brno constantly changes in elevation as it sweeps across forested hillsides and its fast undulating corners test rider talent and engineering to the limit.
Sales for the %year %gp_name are not yet open.
Thank you for your interest. We will contact you when sales open.
Tickets are no longer for sale