Monster Energy Grand Prix de France
News: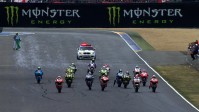 Sunday, 15, May 2011
Repsol Honda's Casey Stoner secured victory for the first time in his career at the Le Mans circuit in Sunday's Monster Energy Grand Prix de France. It was a close battle until the very end between two Italians for second place but it was the second Repsol Honda of Andrea Dovizioso who clinched the 20 points, ahead of Valentino Rossi (Ducati Team) who achieved his first rostrum riding the Desmosedici.
read more »
Photos:
Le Mans:
Circuit info
Length: 4.185 m / 2.600 miles
Width: 13m
Left corners: 5
Right corners: 9
Longest straight: 674 m / 0.419 miles
Constructed: 1966
Modified: 2008
Introduction:
Built in 1965 around the existing 24-Hour track, the Le Mans Bugatti Grand Prix race circuit lies 5km south of the city of Le Mans and 200km south-west of Paris. The venue has hosted Grand Prix since the late sixties but a serious accident to Spanish rider Alberto Puig in 1995 saw it struck off the calendar until 2000 whilst stringent safety improvements were carried out.
Le Mans is a tight track dominated by first gear corners that place the emphasis on late braking and hard acceleration, whilst rear end traction is also a key area. With the capacity to comfortably accommodate up to 100,000 spectators, the Bugatti circuit also plays host to the 24 hour truck race, the FIA GP2 Championship, French Touring Car and GT races.
Sales for the %year %gp_name are not yet open.
Thank you for your interest. We will contact you when sales open.
Tickets are no longer for sale
2011 - Event Results
Podium
Records:
Pole Lap:
TEROL N.
1'43.578
145.5

Km/h

Fastest Lap:
Lap: 9
TEROL N.
1'44.083
144.7

Km/h