eni Motorrad Grand Prix Deutschland
News: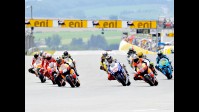 Tuesday, 20, July 2010
motogp.com offers you a full review of an incident-packed round eight at Sachsenring, with easy one-click access to the best of the video action.
read more »
Sachsenring:
Circuit info
Length: 3.671 m / 2.281 miles
Width: 12m
Left corners: 10
Right corners: 3
Longest straight: 700 m / 0.435 miles
Constructed: 1996
Modified: 2003
Introduction:
Car and bike races have been held on closed public roads in the area around the town of Chemnitz, Germany since the 1920s and were still taking place until as recently as 1990. It was decided, however, that the five mile course through such a densely populated area was no longer suitable and a new circuit was built five miles west of Chemnitz in 1996. Although mainly used as a driver training centre and road transport safety station, Sachsenring first hosted MotoGP in 1998 and many improvements have taken place since then, including a drastic layout enhancement in 2001. Numerous tight corners make it one of the slower tracks on the calendar but there is never any shortage of close racing action.
Sales for the %year %gp_name are not yet open.
Thank you for your interest. We will contact you when sales open.
Tickets are no longer for sale