AirAsia British Grand Prix
News: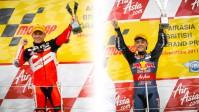 Wednesday, 15, June 2011
Stefan Bradl and Jonas Folger secured victories in the Moto2 and 125cc categories at the rainy British Grand Prix, marking the first time since 1991 Championship has seen two Germans on the podium.
read more »
Photos:
Silverstone:
Circuit info
Length: 5.900 m / 3.666 miles
Width: 17m
Left corners: 8
Right corners: 10
Longest straight: 770 m / 0.478 miles
Constructed: 1948
Modified: 2011
Introduction:
With more than 60 years of history Silverstone has become one of the most prestigious venues dedicated to motorsport. Completely revamped in recent years, a multimillion pound investment saw the completion in 2010 of a first phase of works to greatly improve the venue, making it one of the fastest tracks on the MotoGP calendar and earning high praise from the World Championship riders who enjoyed the new layout. The 'Silverstone Wing', a state-of-the-art, multi-million pound complex, became a new landmark at the circuit from 2011, thus adding to already breathtaking facilities at Silverstone.
Sales for the %year %gp_name are not yet open.
Thank you for your interest. We will contact you when sales open.
Tickets are no longer for sale