Gran Premio d'Italia TIM
News: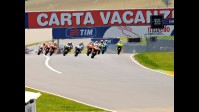 Wednesday, 9, June 2010
motogp.com takes you through a full review of the fourth round of the 2010 MotoGP World Championship, with the best video action just a click away.
read more »
Photos:
Mugello:
Circuit info
Length: 5.245 m / 3.259 miles
Width: 14m
Left corners: 6
Right corners: 9
Longest straight: 1.141 m / 0.709 miles
Constructed: 1974
Modified:
Introduction:
Located 30km north-east of Florence in the beautiful countryside of Tuscany, Mugello is a modern circuit with excellent facilities. Bought by Ferrari back in 1988, the 5.245km track has been renovated to a high standard and has a growing reputation as one of the world's most up-to-date, scenic and safest race circuits.
A blend of slow and fast turns with sweeping curves, long straights and off-camber corners make Mugello one of the most challenging circuits for the riders and engineers. Having hosted its first MotoGP event back in 1976 the venue became a permanent fixture in 1991 after extensive refurbishment. Set within a beautiful tree lined Tuscan valley, Mugello also offers ample viewing areas for a particularly boisterous and partisan Italian crowd.
Sales for the %year %gp_name are not yet open.
Thank you for your interest. We will contact you when sales open.
Tickets are no longer for sale