Iveco Daily TT Assen
News: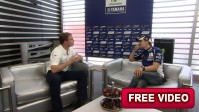 Tuesday, 1, July 2014
Double MotoGP™ World Champion Jorge Lorenzo provides a revealing insight into his racing philosophy and his performances so far in 2014, in the latest episode of After the Flag - which can be watched for free upon registration here on motogp.com.
read more »
Photos:
Assen:
Circuit info
Length: 4.542 m / 2.822 miles
Width: 14m
Left corners: 6
Right corners: 12
Longest straight: 487 m / 0.303 miles
Constructed: 1955
Modified: 2012
Introduction:
Assen is the only venue to have held a round of the Motorcycle World Championship every year since its creation in 1949. The circuit was purpose built for the Dutch TT in 1955, with previous events having been held on public roads. The track is narrow, with rapid changes in direction, and is fully surrounded by grass banks and grandstands, providing excellent viewing for the hundreds of thousands of fanatical spectators who are drawn to the most prestigious event in Dutch motorsport every year. A huge favourite with riders, Assen is well known for its festive and extravagant atmosphere.
In 1999 the circuit was modified with a new grandstand, control tower, press centre and renovated boxes. Modifications to the Assen circuit over the winter of 2005/6 saw the length of the championship's longest serving track cut from over 6km down to 4.555km/2.83miles.
Sales for the %year %gp_name are not yet open.
Thank you for your interest. We will contact you when sales open.
Tickets are no longer for sale