bwin.com GRANDE PREMIO DE PORTUGAL
News: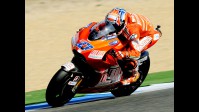 Tuesday, 13, October 2009
Casey Stoner is ready to build on his impressive comeback at Estoril with a similarly strong showing at his home circuit, as the MotoGP season continues with the Iveco Australian Grand Prix this weekend.
read more »
Estoril Circuit:
Circuit info
Length: 4.182 m / 2.599 miles
Width: 14m
Left corners: 4
Right corners: 9
Longest straight: 986 m / 0.613 miles
Constructed: 1972
Modified: 2006
| Laps | 2/3 of laps | Total Distance |
| --- | --- | --- |
| | - | 0.0 km - 0.0 miles |
Introduction:
Situated on the Atlantic coast of Portugal, 28km from capital city Lisbon, the Estoril circuit was used as a MotoGP venue for the first time in 2000. Built in 1972 by Fernanda Pires da Silva the circuit was used mainly for European F2 races in the seventies and after major redevelopment in the early eighties it staged its first Formula 1 Grand Prix in 1984.
One of the trickiest tracks on the GP calendar, Estoril combines long, constant radius corners with heavy braking zones, bumpy straights and a difficult chicane which was added to the back section in 1994. Its geographical position means that weather can be unpredictable, although its generally warm, dry nature makes it a regular choice for pre-season testing sessions.
Sales for the %year %gp_name are not yet open.
Thank you for your interest. We will contact you when sales open.
Tickets are no longer for sale