GP Aperol di San Marino e Riviera di Rimini
News: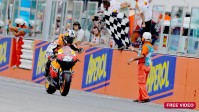 Friday, 10, September 2010
Take a look back over the best of the premier class moments from the Gran Premio Aperol di San Marino e della Riviera di Rimini in this free video.
read more »
Misano World Circuit Marco Simoncelli:
Circuit info
Length: 4.226 m / 2.626 miles
Width: 14m
Left corners: 6
Right corners: 10
Longest straight: 565 m / 0.351 miles
Constructed: 1969
Modified: 2008
Introduction:
Close to the city of Rimini, the Misano Adriático circuit was constructed in 1972 and has since undergone an array of modifications. A regular scene for Italian Grands Prix throughout the 80s and early 90s, Misano returned to the MotoGP calendar in 2007.With updated facilities, track and grandstands, the Misano Adriatico holds a maximum capacity of 60,000 spectators. In accordance with MotoGP safety regulations, the 4,200m track runs clockwise for the World Championship races.
Sales for the %year %gp_name are not yet open.
Thank you for your interest. We will contact you when sales open.
Tickets are no longer for sale