Gran Premio bwin de España
News: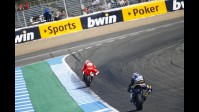 Thursday, 9, May 2013
Tyres were a major talking point in Jerez last weekend, as MotoGP™ riders voiced their feelings. The majority felt that the front compounds available were too soft for the Circuito de Jerez. Bridgestone reviews the event.
read more »
Photos:
Circuito de Jerez:
Circuit info
Length: 4.423 m / 2.748 miles
Width: 11m
Left corners: 5
Right corners: 8
Longest straight: 607 m / 0.377 miles
Constructed: 1986
Modified: 2002
Introduction:
Built in 1986 and hosting its first Grand Prix one year later, the circuit of Jerez is now one of the most popular MotoGP venues and the focal point for a city fanatical about sport. Set in a slight valley in the south of Spain, Jerez is blessed with consistently good weather and beautiful scenery, its numerous grandstands providing the perfect viewing facilities for up to 250,000 spectators.
With two alternative road circuits (4,423m and 4,428m), which were resurfaced during 2005, Jerez is a popular venue used by many race teams for testing throughout the year, whilst its recently updated corporate and media facilities have proven to be a popular addition to the complex. Other facilities such as the control tower and pit boxes have also been vastly improved.
Sales for the %year %gp_name are not yet open.
Thank you for your interest. We will contact you when sales open.
Tickets are no longer for sale
2013 - Event Results
Podium
Records:
Pole Lap:
RABAT E.
1'43.251
154.2

Km/h

Fastest Lap:
Lap: 7
RABAT E.
1'43.119
154.4

Km/h
Podium
Records:
Pole Lap:
RINS A.
1'46.660
149.2

Km/h

Fastest Lap:
Lap: 2
SALOM L.
1'46.948
148.8

Km/h