UNITED STATES GRAND PRIX
News: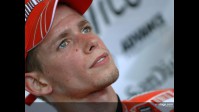 Thursday, 26, July 2007
Casey Stoner's recent form onboard his Desmosedici GP7 has earned him a 44 point World Championship lead at the summer break and his performance in qualifying at the last round of the 2007 season at the Red Bull U.S. Grand Prix also took him into the lead in the BMW M Award standings.
read more »
Mazda Raceway:
Circuit info
Length: 3.610 m / 2.243 miles
Width: 15m
Left corners: 7
Right corners: 4
Longest straight: 453 m / 0.281 miles
Constructed: 1957
Modified: 1996
| Laps | 2/3 of laps | Total Distance |
| --- | --- | --- |
| 32 | - | 115.5 km - 71.8 miles |
Introduction:
MotoGP returned to the US for the first time in 10 years for the Red Bull U.S. Grand Prix at Laguna Seca in July 2005, with a fairy-tale first GP win for American Nicky Hayden. The Californian track played host to Grand Prix events from 1988 to 1994 but advancements in MotoGP racing machines required the event to be moved elsewhere while the track was modified and adapted to meet present day safety requirements.
Since December 2004 the circuit has undergone major changes, primarily to increase track safety. The first phase of modernisation included an expanded exit lane, replacement of the kerbs and widening of the main straight, whilst more recent changes involved moving back walls to create bigger run-off areas. The circuit's principal features, however, remain the same, with 3,58 km of track and 11 curves.
Sales for the %year %gp_name are not yet open.
Thank you for your interest. We will contact you when sales open.
Tickets are no longer for sale