GP Generali de la Comunitat Valenciana
News: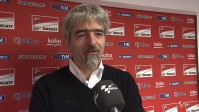 Tuesday, 12, November 2013
One of the key points made by incoming Ducati Corse General Manager Luigi Dall'Igna on his first day in his new role was that a closer relationship must be forged between Ducati's Borgo Panigale HQ and the staff working at the racetrack.
read more »
Photos:
Comunitat Valenciana - Ricardo Tormo:
Circuit info
Length: 4.005 m / 2.489 miles
Width: 12m
Left corners: 9
Right corners: 5
Longest straight: 876 m / 0.544 miles
Constructed: 1999
Modified:
Introduction:
The Circuito de la Comunitat Valenciana was completed in 1999 and held rounds of the MotoGP and Spanish Motorcycle Championships in the same year. The Cheste track has several layouts, running anti-clockwise with varying lengths. MotoGP events are held on a 4km track comprising of five right handed corners, eight left handers and a 650m straight. Although the track is regarded as quite small, the pit complex contains 48 garages whilst the stadium style grandstands can seat up to 150,000 spectators. The circuit layout which allows all parts of the circuit to be seen from any stand helps to create a unique atmosphere enjoyed by Spanish and international riders alike and as the last race of the season there is always a party feeling to the Grand Prix, which was voted best GP of 2005 by IRTA.
Sales for the %year %gp_name are not yet open.
Thank you for your interest. We will contact you when sales open.
Tickets are no longer for sale
2013 - Event Results
Podium
Records:
Pole Lap:
RINS A.
1'39.459
144.9

Km/h

Fastest Lap:
Lap: 7
SALOM L.
1'39.744
144.5

Km/h