Exclusive MotoGP paddock pass auction for British GP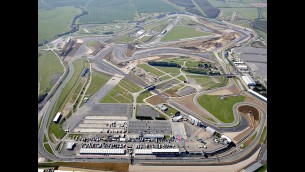 Fans of MotoGP are being given the chance to get exclusive access to the AirAsia British Grand Prix at Silverstone thanks to Riders for Health and the organisers of MotoGP as part of a series of incredible online auctions. The money raised from the sale of the passes will support the work of Riders for Health, the official charity of MotoGP.
The AirAsia British Grand Prix has a new home at Silverstone for 2010 and it is sure to be a fantastic weekend. For the 2010 season, MotoGP have donated two pairs of weekend 'premium paddock passes' to Riders for Health to auction on their website.
Forget watching the race at home on the sofa, the two winning bidders and their guests will spend the whole GP weekend behind the scenes in the MotoGP paddock. For a chance to get hold of a pair of passes for the British MotoGP, just visit the online auction section by going to www.riders.org.
The passes are for the whole MotoGP weekend from 18th-20th June, and the auction closes at 22:00 British time on 6th June 2010.
There are only an extremely limited number of Premium Passes granting access to the MotoGP section of the paddock available – so these passes really are very exclusive.
If you can't make the British MotoGP, don't worry. Riders for Health are auctioning paddock passes for each round of MotoGP. So fans can bid for the GP closest to them – or the passes could be part of an amazing holiday at one of the circuits visited by MotoGP.
If you can't bid for paddock passes for the whole weekend, there is still the chance to see the stars of MotoGP on stage at Riders for Health's Day of Champions on Thursday 17th June.
Day of Champions is a fantastic day out for any race fan. There will be stunt shows, live music, rides with sidecar racing teams, interviews, prizes, displays from the trials teams and much more. With tickets from only £15 for adults and free for under-16s it is a great day out.
There are also a very limited number of tickets remaining which give access to the paddock and pit-lane. This is a great chance to get a close up view of the world's premier motorcycle racing championship. But be quick, these tickets are sure to sell out.
Tickets for Day of Champions 2010 are on sale now. You can order yours today through Riders for Health's online shop by visiting www.riders.org, or by calling the ticket line on 08702 242 960.
In 2009 the auction of paddock passes on the Riders website helped to raise tens-of-thousands of pounds for Riders' lifesaving work in Africa. The support of MotoGP and its fans is helping Riders to reach millions of people across Africa with regular health care. To find out more about Riders and MotoGP are saving lives with motorcycles, click here.
Please note that the auctions are only for paddock passes and do not include flights or accommodation. These Paddock Passes allow access to the race circuit and paddock for the whole race weekend, they do not give access to any hospitality suites, or grandstands. For more information on the auctions please email auctions@riders.org.