Have dinner with legends of motorcycle racing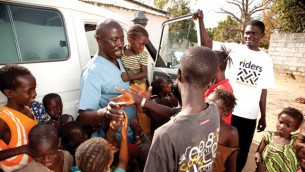 Three times World Champion, Kenny Roberts, and British Championship winner, Steve Parrish, will join former World Champion, Freddie Spencer, and legendary road racer, Graeme Crosby, at an exclusive dinner in aid of Riders for Health on Friday 8th July, and you can bid for a place to join them!
Two auctions give people the opportunity to bid on joining either Freddie and Graeme or Kenny and Steve for dinner, in what is certain to be an amazing evening.
For you chance to win this once in a lifetime prize, simply visit www.riders.org and place a bid on the online auction.
You could soon be asking 'Fast Freddie' what it was like to be the youngest ever racer to win a World Championship aged just 20, or how Graeme 'Kiwi Croz' tamed the mountain on the Isle of Man to win the famous TT race.
Or why not join Kenny and Steve if you have ever wanted to ask Kenny about the highs and lows of his phenomenal 13-year racing career, or if you want to find out from Steve what he and team mate Barry Sheene got up to when they rode for Suzuki together?
No questions are off limits and most importantly you will be raising money for Riders' lifesaving work in Africa.
The four highest bidders for each table will be invited to dinner on 8th July near Mallory Park in Leicestershire. Tickets for this special evening cannot be bought anywhere else so you are guaranteed to have a truly exclusive experience. For your chance to win a seat at either table, click here to place a bid.
Freddie and Graeme will be in the UK to attend The Vintage Motorcycle Club's Festival of a Thousand Bikes at Mallory Park on Saturday 9th and Sunday 10th July. Kenny Roberts will be riding an ex-works Yamaha OW60 at the same event, his first public appearance at a UK circuit since 1983.
All of the proceeds from the online auction will go directly to support Riders for Health's work in Africa. Both Kenny and Steve are long-time supporters of Riders for Health which mobilises health workers with motorcycles so that they can reach rural communities with regular health care.
To visit the online auction or to find out more about how Riders for Health are using motorcycles to save lives in Africa, visit www.riders.org.
Latest news
Thursday, 19 February 2015

Wednesday, 18 February 2015

Tuesday, 17 February 2015

Thursday, 12 February 2015

Wednesday, 11 February 2015

Tuesday, 10 February 2015

Thursday, 22 January 2015

Thursday, 4 December 2014

Thursday, 27 November 2014
Read more »