Cortese takes a red flagged Australian GP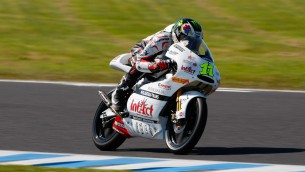 Sandro Cortese took his second victory of the season after a chaotic start at the Iveco Australian Grand Prix. The German rider finished ahead of Luis Salom and Johann Zarco in difficult mixed conditions, in a race that was halted three laps early due to a crash from Niklas Ajo.
Chaos broke out at the start of the 125cc race as a rain shower erupted on the grid, delaying the start by 8 minutes to give teams time to change tires if they chose to do so. There were patches of clear skies showing however, though it was anyone's guess as to if it would continue to rain. A few gamblers chose wets over slicks, but it quickly became clear that the track was drying out.
In addition, when the flurry of activity cleared, the grid revealed an empty third place on the grid - Jonas Folger (Red Bull Ajo Motorsport) never made it out for the warm up lap to due to his engine failing in the warm up session.
Alexis Masbou (Caretta Technology Forward Team) led off the start, bumping his French compatriot and pole starter Johann Zarco (Avant-AirAsia-Ajo) on his way out to the front. Adrián Martín (Bankia Aspar) took over the lead, however shortly thereafter enter the pits to change to slicks as the track dried out. Meanwhile Championship leader Terol (Bankia Aspar) sliced his way through the field after dropping back into 17th off the start.
Sandro Cortese (Intact Racing Team Germany) pulled out a 6 second lead while Luis Salom (RW Racing GP) moved into second and Efrén Vázquez (Avant-AirAsia-Ajo) raced his team mate for third, despite the fact that Zarco is the only one who still has a chance to stop Terol in taking the Championship title.
As Terol gained ground on the front runners, three laps from the end the red flag was produced due to Niklas Ajo (TT Motion Events Racing) crashing and requiring trackside attention. The final race results were determined by rolling back the standings to the previous lap, which saw Cortese the clear winner, Luis Salom in second, and a relieved Zarco the final podium finisher.
In fourth was Vázquez, followed by Alberto Moncayo (Team Andalucía Banca Cívica) and Terol in sixth place, the Spaniard making a remarkable recovery, though the finish has cut his Championship lead from Zarco to 25 points.
Héctor Faubel (Bankia Aspar) finished seventh, ahead of Maverick Viñales (Blusens by Paris Hilton Racing), Louis Rossi (Matteoni Racing) and Danny Webb (Mahindra Racing) who completed the top ten.
Latest news
Thursday, 22 January 2015

Thursday, 4 December 2014

Thursday, 27 November 2014

Tuesday, 25 November 2014

Wednesday, 19 November 2014

Tuesday, 18 November 2014
Read more »