Termas de Rio Hondo getting ready to host MotoGP™ in 2013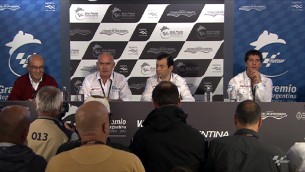 Plans for the 2013 Gran Premio de la República Argentina were discussed at Assen this morning in a press conference featuring Dr. Carlos Enrique Meyer, Argentina's Minister of Tourism, Gerardo Zamora, Santiago del Estero's Governor, Orlando Terranova, Grupo OSD and Carmelo Ezpeleta, Dorna Sports' CEO.
Following an agreement signed last year, construction work is underway at the Termas de Rio Hondo track, which will be the newest addition to the MotoGP™ calendar in 2013, playing host to the Gran Premio de la República Argentina.
Dorna Sports' CEO Carmelo Ezpeleta declared: "We haven't been in Argentina since 1999 and not in South America since 2004 - we couldn't go there as there wasn't any homologated circuit and that's why the Santiago de Estero government got in touch with us to study the possibility to have a modern circuit there and for MotoGP™ to come back to Argentina. The feedback we had so far on the work done at the track has been very positive and everything should be ready so we can hold a race there at the beginning of the 2013 season."
Dr Carlos Enrique Meyer, the Minister of Tourism for Argentina added: "We're pleased to be here today in Assen to present the Gran Premio de la República Argentina. It will be a very important event for Argentina and all of South America, due to its central location. We have an agreement for three seasons starting from 2013 and we're preparing some first grade facilities to ensure the Termas de Rio Hondo track matches the standards of international racing. We've been learning by looking at other MotoGP™ venues and I think we'll deliver a great experience, for fans, spectators and riders alike, while building a gateway to a very attractive part of Argentina."