Bautista seventh at wet Jerez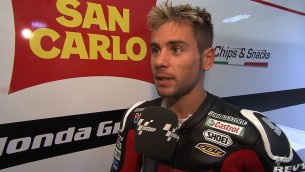 Mixed weather on the opening day of the Spanish Grand Prix made for difficult conditions at Jerez. Alvaro Bautista completed only a handful of laps in the damp this morning but spent most of the afternoon session lapping on the fully wet track. The conditions were certainly not beneficial to the team's CRT project, which is in desperate need of dry track time to develop the bike.
Alvaro Bautista (Free Practice 2 - 7th 1' 53.166)

"It has been a very difficult day because of the mixed weather. This morning the light rainfall did not wet the track enough for us to use the wet tyres properly so we only managed four laps. It was pretty damp this afternoon though so we were able to gather some confidence with this bike in the wet and found a way forward with the set-up, although a couple of little problems slowed my progress. As the track dried it was more and more difficult to work so we'll have to wait for tomorrow now and see what we get."
Michele Pirro (Free Pratice 2 - 19th 1' 56" 067)

"These are the worst possible conditions for us to try and work on the set-up of our bike. We still have a lot of problems with the electronics and with mixed conditions on the track it makes things even harder. Hopefully we get a bit of luck tomorrow because we need it."
Fausto Gresini, Team Owner

"It has been a tough day and difficult conditions to work in. Alvaro has done a good job despite suffering from a chatter problem for the first time. It is the first time we have used wet tyres so maybe this was the reason. We will work hard to put things right tomorrow. As for the CRT we are still not there yet with the electronics package so these conditions were not what we needed. Hopefully the weather is on our side tomorrow and if so I think we can improve a lot."
Latest news
Friday, 19 September 2014

Thursday, 18 September 2014

Wednesday, 17 September 2014

Tuesday, 16 September 2014

Monday, 15 September 2014

Sunday, 14 September 2014

Saturday, 13 September 2014

Wednesday, 10 September 2014

Thursday, 4 September 2014
Read more »
Friday, 19 September 2014

Wednesday, 17 September 2014

Tuesday, 16 September 2014

Monday, 15 September 2014

Sunday, 14 September 2014

Friday, 12 September 2014

Wednesday, 10 September 2014

Tuesday, 9 September 2014
Read more »