Bradl meets the fans at EICMA Show in Milan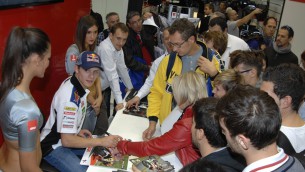 After completing a test at Ricardo Tormo circuit in Valencia, LCR Honda racer Stefan Bradl travelled to Italy on Friday to attend the 70th Edition of the EICMA Show in Milan which saw a huge turnout of 2-wheel fans throughout the 4-day International Motorcycle event with more than 510.500 visitors.
At the different stands, the Best Rookie of the Year of the premier class met his supporters together with his Team Manager Lucio Cecchinello and signed autograph for fans enjoying the warmth of the Italian audience.
Stefan Bradl said: "This was my first visit at EICMA in Milan and the show was huge: I was positively impressed. I went to Koln at Intermot Show some weeks ago and enjoyed my national fans once again but even the Italian public welcomed me like an idol. It's nice to see all those teenagers screaming your name queuing for an autograph. During the race weekends I am very busy and concentrated so this visit at EICMA gave me the chance to thank our Team supporters for their cooperation during the season."
Press release courtesy of LCR Honda MotoGP Team