Crutchlow's Silverstone leathers auctioned for "Feed The Children"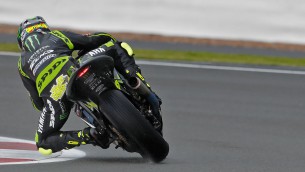 Yamaha Motor Corporation, U.S.A., is pleased to announce another incredible opportunity to bid on a historic set of road racing leathers as worn by Monster Yamaha Tech 3's Cal Crutchlow, during his dramatic sixth-place finish at last weekend's British Grand Prix, all to benefit Feed the Children, Yamaha Motor Corporation's corporate charity.
The leathers being auctioned are directly off the back of "The Honey Badger" himself, Monster Energy/Tech 3 Yamaha's Cal Crutchlow, who has generously donated his authentic Spidi custom-made leathers, as worn by Cal during this year's British Grand Prix.
The winning bidder will also receive a pair of weekend 3-day general admission passes, including paddock access, to the Red Bull U.S. Grand Prix, July 27-29 at Mazda Raceway Laguna Seca. In addition, the package includes hotel accommodations in the Monterey area for the entire race weekend (Friday and Saturday night).
And, finally, the winning bidder will also be invited on stage Saturday evening during the scheduled, GE-sponsored concert ceremonies to receive the personally autographed gear directly from Cal.
"Cal Crutchlow has quickly proven himself to be tremendously popular with race fans the world over, and there's no doubt that he has gained legions of new fans after his heroic charge through the pack on his #35 Monster Energy/Tech 3 Yamaha YZR-M1 this past weekend," said Bob Starr, Yamaha's General Manager of National Communications, "And, to donate his actual race-worn leathers to such a worthy cause and see him on the GE stage at this years' Red Bull U.S. GP will surely be a treat for not only all his American fans but, in particular, the winning bidder!"
The auction is live on eBay beginning today and will continue through June 26. To place your bid, please visit the following link:
Crutchlow Leathers and MotoGP Package
Press release courtesy of Yamaha Motor Corporation, U.S.A..