MotoGP™ Legend Mick Doohan to ride at Phillip Island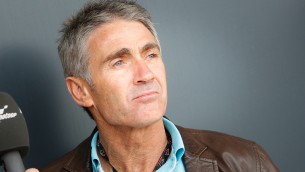 Thursday
, 20 September 2012
While Repsol Honda's Casey Stoner will be looking to finish his MotoGP™ career in style at this year's AirAsia Australian Motorcycle Grand Prix, Aussie hero and MotoGP™ Legend Mick Doohan will turn back the clock to thrill Phillip Island fans with a tribute to days gone by.
Five-time 500cc World Champion Doohan will take to the Phillip Island circuit over the Grand Prix weekend at the end of October on a current specification Repsol Honda RC213V MotoGP machine, completing a series of demonstration laps sure to evoke memories of the Queenslander's memorable career. Doohan's five World Championships, achieved from 1994-1998, and all 54 of his 500cc victories came on Honda machinery.
Reigning MotoGP World Champion Casey Stoner won the world title for the Repsol Honda team last year with 10 wins and 16 podium finishes in 17 races, a display of dominance rarely seen since Doohan won 12 of the 15 races in the 1997 championship. Stoner, who is aiming for his sixth consecutive win at Phillip Island this October, will retire from MotoGP at the end of the 2012 season.
Doohan's demonstration laps will be the first time he's ridden a modern-day Grand Prix bike at the Island in more than a decade. In his last race at the picturesque coastal circuit, Doohan won the 1998 Australian Motorcycle Grand Prix.
"The last time I rode a Grand Prix bike at all was in the mid-2000s in Japan so it's been a long while, and I'm really looking forward to it," he said. "The fans and the riders always enjoy getting down to the Island, so hopefully this year with Casey's retirement announcement, it's going to be a big event. It'll be good to play a little part in that, and I'm looking forward to seeing everyone down there."
Doohan, who will familiarise himself with the bike on the Saturday at the Island before the demonstration run on Sunday's race day, will ride a RC213V 1000cc provided by Stoner's Repsol Honda Team.
Shuhei Nakamoto, Executive Vice-President of Honda Racing Corporation (HRC), said the link between Australian champions of the past and present will be a special occasion.
"It is great to be able to provide such a tribute to an Australian World Champion at his home Grand Prix. With Mick and Casey both on track, it will certainly be an exciting weekend for the Repsol Honda team," he said.
Tickets for the 2012 AirAsia Australian Motorcycle Grand Prix are selling fast. The Australian Grand Prix Corporation is urging fans to book early to see two Australian greats in action.
Latest news
Saturday, 31 January 2015

Thursday, 29 January 2015

Thursday, 22 January 2015

Wednesday, 21 January 2015
Read more »
Thursday, 22 January 2015

Thursday, 4 December 2014

Thursday, 27 November 2014

Tuesday, 25 November 2014

Wednesday, 19 November 2014

Tuesday, 18 November 2014
Read more »