Difficult qualifying for Ducati Team at Valencia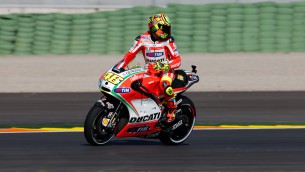 Saturday
, 10 November 2012
Qualifying practice for the GP de la Comunitat Valenciana was particularly challenging for the Ducati Team. With just one hour of time—the qualifying session itself—on a completely dry track, Nicky Hayden found a setup with some positives, though he still had some difficulty turning.
Rossi also had problems with the front end, especially in bringing the hard front tyre up to temperature on the right side. The Italian had to use the soft tyre, which he doesn't think will be the ideal choice for tomorrow's race.
Nicky Hayden 7th
"It's been strange with the weather this weekend. We had to basically go out in qualifying and spend some time to understand the new grip and also the bike, then try to get a good time. The bike was okay, but the front was pushing a lot, especially on corner entry, with the brake still on. The new pavement certainly helps the bike feel better, and I thought we could be closer to the guys at the front, but they went really fast today. I'm not too thrilled with how it went, but we have a couple of ideas to try in warm-up tomorrow. We'll see."
Valentino Rossi 11th
"Today went pretty badly, and I'm sorry because we really hoped to do well in these last races. It's also true that Hayden, Barberá and Bautista aren't so far ahead, so tomorrow we'll certainly try to do a good start, to pass some people and make up some positions. Unfortunately, today I had some problems with the hard front tyre. I lost the front twice at mid-session because we're not able to get it up to temperature well on the right side. The race should be done with the hard, so we'll see what the temperature is tomorrow or if there's bad weather. If it were to rain, we would certainly be more competitive."
Press release courtesy of Ducati Team.
Latest news
Thursday, 19 February 2015

Wednesday, 18 February 2015

Tuesday, 17 February 2015

Thursday, 12 February 2015

Wednesday, 11 February 2015

Tuesday, 10 February 2015

Thursday, 22 January 2015

Thursday, 4 December 2014

Thursday, 27 November 2014
Read more »