Bautista has fifth in his sights at Valencia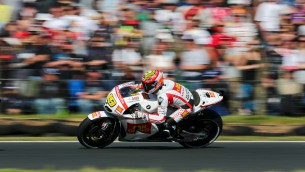 Wednesday
, 7 November 2012
San Carlo Honda Gresini's Álvaro Bautista and Michele Pirro head to Valencia looking to sign off from the 2012 season in the best possible fashion, with the Spaniard looking to seal a final championship position of fifth after a challenging first campaign on board the Honda RC213V.
Bautista has confirmed his potential as a consistent frontrunner in this category in the second half of the season and he would like nothing better than to cap it off with a good result in front of his home crowd. The target for Pirro is to finish the season as the third highest CRT bike in the championship, a result that would be just reward for the Italian and his team in a difficult first season for the new breed of MotoGP machines.
Álvaro Bautista  
"Valencia is always a special round because it is the last race of the season and it's at home. The objective is to make sure of fifth place in the championship and we will be working hard from Friday to solve the problems we have found with the bike at other circuits. I am really looking forward to getting back on the bike and hopefully having fun again and making the most of the support. Valencia is a very technical and slow circuit, you never a get a break because the bike is constantly leaned over and changing direction. There is a new track surface this year so we'll have to wait and see what the grip is like - the data we got from the test last year won't be of much use. I have been on the podium a few times in the past at Valencia but it's not one of my favourite circuits."
Michele Pirro
"It goes without saying that I have great memories of Valencia thanks to my victory there in the Moto2 race last season. This year I would like to finish the season in style again and beat the Aprilia-ART bikes at last. That would be fantastic and the perfect way to repay everybody who has believed in our CRT project."
Press release courtesy of San Carlo Honda Gresini.
Latest news
Wednesday, 26 November 2014

Thursday, 20 November 2014

Wednesday, 19 November 2014

Tuesday, 18 November 2014

Thursday, 13 November 2014

Wednesday, 12 November 2014

Tuesday, 11 November 2014

Saturday, 8 November 2014

Thursday, 6 November 2014
Read more »
Tuesday, 25 November 2014

Wednesday, 19 November 2014

Tuesday, 18 November 2014

Thursday, 13 November 2014

Wednesday, 12 November 2014

Tuesday, 11 November 2014
Read more »