Lüthi and Márquez go head-to-head in Moto2™
Moto2™ is powered by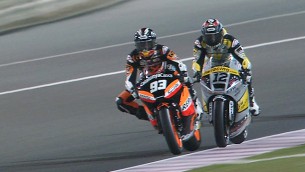 The two riders were summoned by Race Direction in the aftermath of an incident towards the end of the Commercialbank Grand Prix of Qatar. In the attached videos you can re-watch the overtake which sparked controversy, and see the two riders' exchange of opinions with one another after the race.
Thomas Lüthi and Marc Márquez went head-to-head going into the final lap of the Moto2™ Commercialbank Grand Prix of Qatar on Sunday, with their fight for victory culminating in an overtake on the Swiss rider by his Spanish rival who then went on to win the race.
The manoeuvre resulted in an off-track excursion for Lüthi, and the two riders were summoned to Race Direction after the incident; Márquez for the move which was viewed as being on the limit, and Lüthi for striking the Spaniard on the arm on the cool down lap following the race. The pair also exchanged opinions after the race when Márquez sought out his opponent to explain his actions.
"After how the sessions went and having been at the front of the race until the final lap, to then end fifth, you can't be satisfied with that," said Lüthi. "I didn't like the incorrect manoeuvre which Márquez made."
Márquez told motogp.com: "I'd been passed aggressively three or four times and I realised I needed to be a bit more aggressive to try and defend my position. At that moment [in the race] I knew Lüthi was going to get ahead of me and then go hard to try to open up a gap. I stuck to him, and I thought the last lap was where I was going to pass him and that's what I did."
In the accompanying videos you can watch the move again from different angles, and see how the pair discussed the incident with one another shortly after the race.
Latest news
Saturday, 13 December 2014

Wednesday, 10 December 2014
Read more »
Thursday, 4 December 2014

Thursday, 27 November 2014

Tuesday, 25 November 2014

Wednesday, 19 November 2014

Tuesday, 18 November 2014
Read more »