Brilliant second place on Oliveira's debut at Phillip Island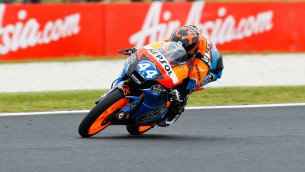 It would have been difficult for Miguel Oliveira to have a better debut at the Australian circuit of Phillip Island this Sunday. Starting from sixth on the grid, the Estrella Galicia 0,0 rider assured a brilliant second spot, his best ever result in Grand Prix racing and his second podium in his career, after having been third in Barcelona earlier in the year.
The young Portuguese was overtaken by three rivals at the start, but he didn't take long to get back and, by the second intermediate of the race, he was back in sixth again. Part of the front group of nine riders fighting for the leading on the opening laps, Oliveira never lost sight of the first position and only Sandro Cortese took better advantage of Salom and Folger's ride through for jump starting the race than the Almada rider.
After seven laps, and with his rivals out of the way, Miguel Oliveira kept tight on the German and did almost the entire race on the leader's rear wheel, managing a comfortable advantage in relation to the rest of the grid. Not happy with his position, the Portuguese rider went by Cortese to take the lead after 18 laps. However, the German recovered the first spot after two laps, and Oliveira opted to ensure his first second place of the career, which translated into the second Moto3 podium and 20 championship points.
"It was a difficult race. We had to fight a lot. I fell twice during the warm-up due to some front wheel instability, but on the race I rode with Sandro [Cortese]. I managed to keep his pace and, in the end, when he got pass me, I chose to secure the second spot," said a joyful Miguel Oliveira.
"I am very happy with this podium, all the team deserves it. It has been an up and down season; fortunately we have been improving and learning a lot this last half part of the year. This is a very positive result for me, both for next year and for the end of the season," ended the Portuguese rider, who has been on the top 9 since the end of the Summer break and scored a total of 75 points. These results allowed him to leave Australia in seventh on the championship with 114 points.
Latest news
Thursday, 12 December 2013

Wednesday, 11 December 2013

Wednesday, 4 December 2013
Read more »
Thursday, 5 December 2013

Wednesday, 20 November 2013

Tuesday, 19 November 2013
Read more »
Wednesday, 27 November 2013

Wednesday, 20 November 2013

Thursday, 14 November 2013

Saturday, 9 November 2013
Read more »