Riders for Health – Valencia passes now up for grabs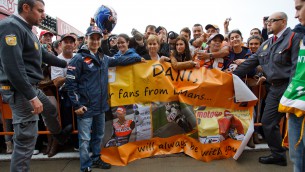 Wednesday
, 31 October 2012
Riders for Health is giving MotoGP™ fans the opportunity to see the Valencia paddock up close and personal with its limited offer of Paddock Passes the Thursday before the race along with tickets to its fun-filled Auction, with the proceeds going towards its vital medical work in Africa.
Fans can buy General Admission tickets for €20, which will give access to the circuit and pit-lane between select time (see below) and then access to the auction from 15:30, which will see numerous riders up on stage. Ride-in and Paddock passes range from €85 to €120 and give full access to the paddock and the auction, and offer the fantastic opportunity of a ride-in (see full details below).
There are only a limited number of passes available, so to be sure to get yours, please email Sam Lyon at samlyon43@hotmail.com giving both your name and mobile number.
General Admission
09:00: Tickets on sale (Gate 1)
13:00: Gates open
13:00 to 15:30: Visit pit-lane
15:00 to 17:00: Stand selling sandwiches and drinks (at exit pit-lane, near auction)
15:30 to 18:00: Auction
Price per person: 20 Euros
Ride-in + Paddock Tickets
11:00: Signing in
12:30 to 13:00: Briefing and ride-in
14:00: Lunch at Circuit Restaurant
13:00 to 15:30: Visit pit-lane
12:30 to 18:00: Visit paddock
15:30 to 18:00: Auction
Price per rider: 120 euros. Price per passenger or guest with no bike: 85 euros
Price includes all the above activities, as well as the general admission ticket activities. All people on motorcycles must be over 18 years of age. No quads allowed. In the event of rain, the ride-in would be cancelled due to safety reasons. Tickets are limited and must be reserved beforehand by e-mail to samlyon43@hotmail.com
(If you are attending without a bike, this option is still available and the price would be 85 euros per person).
Latest news
Thursday, 5 December 2013

Wednesday, 20 November 2013

Tuesday, 19 November 2013
Read more »
Wednesday, 27 November 2013

Wednesday, 20 November 2013

Thursday, 14 November 2013

Saturday, 9 November 2013
Read more »