Sandro Cortese – 2012 Moto3™ World Champion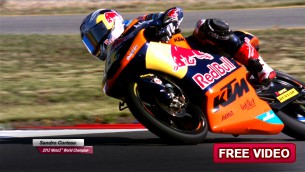 Red Bull KTM Ajo's Sandro Cortese has cemented his name in the history books, as he became the first rider to win the inaugural Moto3™ World Championship in Malaysia this weekend, whilst also taking the accolades of youngest-ever German to do so and being the first to win in the GP class on a KTM.
Cortese made his 125cc Grand Prix debut after a lengthy spell in the German championship in 2005 with the Kiefer-Bos-Castrol Honda team in Jerez, Spain, where he finished in 30th. His maiden season saw him finish 26th in the overall standings, after which he lined up for the Elit-Caffe Latte team for the following three years on a Honda, steadily improving season by season, culminating in 8th place in the championship on 2008.
2009 saw Cortese make his first big mark on the world scene after his switch to Ajo Interwetten on a Derbi saw him finish the first race in Qatar in third. As well as his maiden pole position in Assen that year, he took two further podiums in Portugal and Australia, seeing him end the season in sixth. He partnered Marc Márquez in 2010 in the Ajo outfit, yet was unable to improve on his previous year, prompting a switch to Intact-Racing Team Germany on board an Aprilia for 2011.
That season yielded his first ever GP win in Brno, a win in Australia as well as four other podiums, seeing the German finish fourth in what was a strong field in the final year of the 125cc class. For the inaugural Moto3™ season Cortese switched to the Red Bull KTM Ajo team taking pole position at Qatar and third in the race. In what was a continuous scrap with rival Maverick Viñales all season, Cortese's thirteen podiums in the first fifteen races revealed the German's speed, skill and composure, which ultimately led to him taking the title in Malaysia, after a hard fought win in a battle with Zulfahmi Khairuddin and Jonas Folger.
Sandro Cortese facts:
Sandro Cortese is the first ever winner of the Moto3 world championship.
Cortese is the fourth German rider to win the lightweight class world title, joining: Werner Haas (NSU/1953), Dieter Braun (Suzuki/1970), Dirk Raudies (Honda/1993)
At the age of 22 years and 289 days he is the youngest-ever German rider to win the lightweight class world title.
He is the first rider to take a world title, in any of the three MotoGP categories, riding a motorcycle manufactured by KTM.
He has finished in the top six at all fifteen races so far in 2012, including thirteen podium finishes.
Biography
Birth date: 06/01/1990
Birth place: Ochsenhausen, Germany
First Grand Prix: SPA – 2005 – 125cc
First Pole Position: NED – 2009 – 125cc
First Podium: QAT – 2009 – 125cc
First GP Victory: CZE – 2011 – 125cc
Grand Prix Starts: 131
Grand Prix Victories: 6
Podiums: 24
Pole Positions: 9
Race Fastest Lap: 11
World Championship Wins: 1 x Moto3™
MotoGP Career:
2005: 125cc World Championship – 26th position on a Honda, 16 starts, 8 points
2006: 125cc World Championship – 17th position on a Honda, 16 starts, 23 points
2007: 125cc World Championship – 14th position on a Honda, 17 starts, 66 points
2008: 125cc World Championship – 8th position on a Honda, 17 starts, 141 points
2009: 125cc World Championship – 6th position on a Derbi, 16 starts, 130 points
2010: 125cc World Championship – 7th position on a Derbi, 17 starts, 143 points
2011: 125cc World Championship – 4th position on an Aprilia, 17 starts, 225 points
2012: Moto3™ World Championship – 1st position on a KTM, 15 starts, 280 points
For full details check out Sandro Cortese's profile on motogp.com.
Latest news
Saturday, 31 January 2015

Thursday, 29 January 2015

Thursday, 22 January 2015

Wednesday, 21 January 2015
Read more »
Thursday, 22 January 2015

Thursday, 4 December 2014

Thursday, 27 November 2014

Tuesday, 25 November 2014

Wednesday, 19 November 2014

Tuesday, 18 November 2014
Read more »