Valentino Rossi owns Monza Rally 2012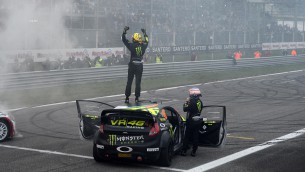 The 30,000 or so fans that piled into Monza earlier today sure got the spectacle they came for. The 90th edition of the Monza Rally Show saw the legend that is Valentino Rossi claim his third title at the fabled Milanese circuit and even scored a double as he walked away with not only the Stage Rally win but took the top step of the Master Show like a boss.
" We come to win" were The Doctor's first words to the press ahead of the weekend. He delivered, and in some style: with multiple Le Mans winner Dindo Capello breathing down his neck, Valentino had huge competition all weekend and in fact secured a margin of victory in the Stage Rally by a tight 2.8 seconds, after 9 outings, around the awesome Autodrome di Monza. The pair traded stage wins on Sunday morning and it was ultimately a further 54.4 seconds back to Piero Longhi in third.
With a smile on his face the whole way through the weekend, the fans not only got up close to their hero in the paddock on his numerous trips out of the garage, where he inked memorabilia and posed for photos, but he drove the Master Show in front of the jammed grandstand with immense confidence.
Run on the start-finish straight and in honor of the late, great Marco Simoncelli: the head-to-head format saw Valentino set fastest times in his heats. Picking his way to the final, he came up against fellow MotoGP star Andrea Dovizioso who couldn't find quite enough to stay with him. The final run saw him square up against Capello one more time but over the three-lap run he blazed to the win by over 8.5 seconds. Meanwhile, it was Andrea Dovizioso who claimed the third spot on the box.
Team VR|46 Racing's outfit depart Monza with a medal haul thanks to Valentino's exploits but plenty to celebrate in the form of Robby Brivio and Uccio Salucci's results as they stormed home to 9th and 13th respectively in the Stage Rally format. Meanwhile, Andrea Dovizioso will no doubt fancy another crack at four-wheel racing thanks to a super solid performance throughout, scoring fifth place in the Stage Rally as well as his Master podium.
Press release courtesy of Monster Energy
Photos:
Latest news
Thursday, 19 February 2015

Wednesday, 18 February 2015

Tuesday, 17 February 2015

Thursday, 12 February 2015

Wednesday, 11 February 2015

Tuesday, 10 February 2015

Thursday, 22 January 2015

Thursday, 4 December 2014

Thursday, 27 November 2014
Read more »