Barberá: "The talks with Avintia Blusens are reaching an advanced stage"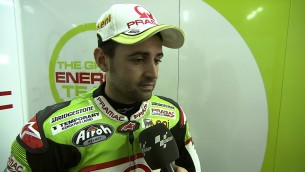 Friday
, 28 September 2012
Spanish rider Héctor Barberá has confirmed that he is on the verge of signing a contract to ride a CRT for the Avintia Blusens team for the 2013 season and has responded to Dani Pedrosa's criticisms of him for apologising for their costly racing incident in Misano only by telephone.
It was a slow start to the weekend on track for Barberá, who ended up 18th on the timesheet, but the rider is making progress elsewhere as he seeks to clarify his ride for next year.
Regarding a move from the Pramac Racing Ducati to a BQR machine with Avintia Blusens to compete with the CRT riders in 2013, Barberá states: "Nothing is signed yet, but it looks like it may be the best move and is what is most motivating me right now. We're talking and the conversations are very advanced, but it's not yet official. It's an exciting project and the challenge will suit me, the team fits well with me. In the coming weeks we'll be able to say more, it's getting close."
The rider has also responded to Pedrosa's criticism that he has only attempted to apologise by mobile phone for his presumed wrongdoing in an incident which saw him and title challenger crash out on lap one in Misano.
"We haven't seen each other so far as we've both been in our motorhomes. On the Monday after the Misano race I called Dani but I didn't get through so I sent him a message and I haven't heard back. I guess he will still be angry and I understand it as there was a lot at stake, but I hope he knows it was just a racing move. I also hope eventually we can shake hands and have a laugh because this is sport."
"Actually I think sport is usually fair and we all end up where we deserve to be. It was also hard for (Jorge) Lorenzo and (Álvaro) Bautista when they crashed (in Assen earlier this season, costing Lorenzo points). Those 25 points were almost 'given' to Dani and now he's lost them again."
Latest news
Thursday, 22 January 2015

Thursday, 4 December 2014

Thursday, 27 November 2014

Tuesday, 25 November 2014

Wednesday, 19 November 2014

Tuesday, 18 November 2014
Read more »