Nicky Hayden on front row in Jerez, Valentino Rossi 13th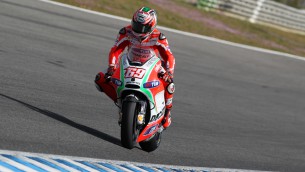 The qualifying session for the MotoGP round in Jerez de la Frontera featured unpredictable weather conditions, as had been the case in all of the free-practice sessions. Nicky Hayden posted the third-best time on a mainly dry track, earning a spot on the front row with Lorenzo and Pedrosa, while Valentino Rossi was unable to replicate Friday's very strong wet performance and finished with the thirteenth-best time.
The qualifying session featured the driest track conditions of the event so far, although the situation was far from ideal, with cold asphalt and wet patches from the morning rain. Hayden found a setup with which he managed to ride the track quite well, while Rossi had a harder time and wasn't able to be as effective.
Nicky Hayden (Ducati Team) 3rd (1:40.563)

"To be on the front row is really good for us. The track conditions were quite strange, different compared to what we've had the whole weekend. It certainly helped that we tested here in the dry not too long ago, as we had a relatively good base setup. We went out hard right from the gun, because we knew some spots of rain were coming. I moved up a couple times and thought, 'Okay, let it rain now,' but then I'd drop back down and think, 'Oh, don't start raining yet.' It got better near the end, but it was still tough because there were a lot of wet patches on the track, which made it easy to make mistakes. In the end, we took advantage of the strange situation and made the front row, so I'm really happy for my team. Now we'll try to make it happen when it counts tomorrow."
Valentino Rossi (Ducati Team) 13th (1:42.961)

"Qualifying didn't go well today. The conditions were quite difficult because it was cold and the asphalt was dry, but not completely. Anyway, it was like that for everyone, so that wasn't the problem. Unfortunately, I'm still having a very hard time riding and entering corners, both on the brakes and off. I'm slow to achieve maximum lean angle and don't carry the necessary corner speed, so when it's time to accelerate, I've already lost too much ground. We've been trying to solve this situation for a while, but we haven't managed it yet. We have to keep working on the setup because Nicky had a nice session today and really did a good job. Comparing the data, we've confirmed that we're losing all our time on corner entry. Anyway, we went a bit better in the wet, so we'll see what conditions we have for the race."
Press release courtesy of Ducati Team.