Positive performance from Bautista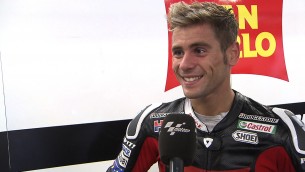 Team San Carlo Honda Gresini were smiling again today following their disappointment in Le Mans two weeks ago after an excellent sixth place for Álvaro Bautista, who was just four seconds off the podium, and second place for Michele Pirro in the CRT battle – a mere 0.7 seconds behind the winner – in Barcelona.
Bautista built on the confidence he has found in recent weeks to ride with conviction and determination after a bad start whilst Pirro is finally reaping the fruit of months of hard work that promises much for the future.
Alvaro Bautista

"It is a shame that I didn't get a perfect start. It's bad enough being on the third row but I managed to lose positions from there and had a tough battle to recover, especially with Valentino. The most pleasing thing about the fight with Rossi was that I passed him in the same place he passed Lorenzo for the win in 2009. Unfortunately the guys at the front had got too far ahead and by the time I was lapping at the same pace as them the tyres were dropping off and I couldn't catch them. Next time we have to try hard to get a better position on the grid and make a better start but for now I am satisfied. It's the same result as Jerez and Estoril but with a much smaller gap to the podium and now we have the opportunity to build on it in the test tomorrow."
Michele Pirro

"We always get a good start but unlike the others I don't seem to be able to push hard on fresh tyres. Over the rest of the race my pace is consistent so we need to work on not losing so much ground at the start of the race. I am sure we could have finished as the top CRT here today but anyway this is still a good result and I had a lot of fun overtaking. I have to say a special thanks to the team, who are working round the clock to give me the means to do well. I do what I can and I am sure that if we continue to believe we will get our rewards."
Fausto Gresini, Team Owner

"It has been a great day, even though it could have been better with Alvaro possibly fighting for the podium if he'd been higher on the grid. Anyway, this was his best race of the season so far, finishing just four seconds off the podium. I am also very happy with Michele and the CRT guys because this was their best race too and they were just a hair's breadth away from being the top CRT. Maybe if he could have passed De Puniet sooner he would have had a better chance but we are satisfied and proud anyway to be getting these results on such a tight budget."
Press release courtesy of San Carlo Honda Gresini.
Latest news
Thursday, 30 October 2014

Wednesday, 29 October 2014

Saturday, 25 October 2014

Wednesday, 22 October 2014
Read more »
Wednesday, 29 October 2014

Saturday, 25 October 2014

Thursday, 23 October 2014

Wednesday, 22 October 2014

Saturday, 18 October 2014
Read more »