Folger heads wet final free Misano practice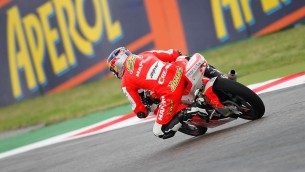 Saturday
, 15 September 2012
Weather conditions remained wet for the Moto3™ class in their final free practice at the Gran Premio Aperol di San Marino e della Riviera de Rimini in Misano this morning, with Mapfre Aspar Team Moto3's Jonas Folger setting the fastest lap ahead of Sandro Cortese and Miguel Oliveira.
Lap times remained below the fastest set yesterday on the mostly dry track, as the grid had a full session on full wet-tyres, despite the rain stopping early on in practice. Folger cemented his ever improving reputation aboard his new machine by posting the fastest time of the morning with a 1.54'331, over half a second in front of Red Bull KTM Ajo's championship leader Sandro Cortese, who left it late to jump up the timesheets. In third, Estrella Galicia 0,0's Miguel Oliveira continued his good run of form at the San Marino track, as he finished just over a tenth off Cortese.
AirAsia-SIC-Ajo's Zulfahmi Khairuddin who led yesterday's morning session, came in fourth, with Cortese's British teammate Danny Kent slotting into fifth. JHK t-shirt Laglisse's Efrén Vázquez was only fractionally slower than Kent, yet managed to firmly displace Oliveira's teammate Alex Rins into seventh. Elle 2-Ciatti's wildcard Kevin Calia showed once again why he deserves a place on the world stage by putting his Honda in eighth, ahead of Red Bull's Arthur Sissis and Blusens Avintia's Maverick Viñales.
Mahindra Racing's replacement rider Miroslav Popov fell twice during the session, as did Caretta Technology's Jack Miller – his third of the weekend. Both fell in spectacular fashion, yet fortunately walked away unscathed. Other crashers were TT Motion Events Racing's Niklas Ajo, RW Racing GP's Luis Salom and Popov's teammate Danny Webb.
Latest news
Thursday, 20 February 2014

Wednesday, 19 February 2014

Tuesday, 18 February 2014

Thursday, 13 February 2014

Wednesday, 12 February 2014

Tuesday, 11 February 2014
Read more »