Moto2™ contingent to scrap it out on British soil
Moto2™ is powered by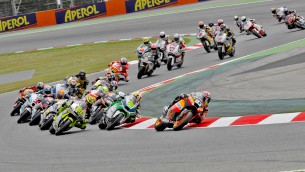 At this weekend's Hertz British Grand Prix the Moto2™ class returns once more to continue its ever-thrilling fight for top spot in the intermediate class. After a race in Catalunya that was steeped in action and controversy, the riders will be hoping that racing is the sole agenda at the Silverstone round.
Interwetten-Paddock's Tom Lüthi heads into the British round two points clear at the top of the table, yet is hotly pursued by Team CatalunyaCaixa Repsol's Marc Márquez, who was involved in the controversial incident with Pol Espargaró last time out. Espargaró's team, Pons 40 HP Tuenti, has since lodged an appeal with the FIM CDI against the FIM Stewards' decision to cancel Márquez's penalty. Their rider, currently joint third in the table, will look to recover from his crash and put in a good showing on board his Kalex machine. Both Márquez and Espargaró crashed out of last year's race, yet Márquez did start from pole position.
Speed Master's Andrea Iannone, who won the Catalunya race with a tremendous ride, will no doubt be looking to repeat that feat in the UK, where he has not had the best results in Moto2™, finishing no higher than 12th. He will face a stiff challenge in the shape of local rider Scott Redding on his Marc VDS Racing Team's Kalex. Redding has had strong results at the track, and enjoys racing in front of his home fans, as he proved in Donington in 2008, where he became the youngest Grand Prix winner of all time with a victory in the 125cc class.
His teammate Mika Kallio will be looking to spoil the party however and claw back some points on Redding, while Italtrans Racing Team's Claudio Corti will aim to rekindle some of the pace he showed at Silverstone in 2010, where he recorded his sole Moto2™ pole position. Espargaró's teammate Esteve Rabat heads to the UK after a solid fourth in Catalunya, whilst JiR Moto2's Johann Zarco will aim to head further up the top ten ranking. Rounding out the top ten is Tech 3 Racing's Bradley Smith, who will not only look to put in a good showing in front of his home fans, but will undoubtedly be thinking back to last year, where a spectacular ride took him from 28th on the grid to second in the race. That is the Brit's best Moto2™ result to date.
The Moto2™ grid also welcomes Brazilian Eric Granado from the JiR Moto2 team. At 16 years and seven days old on race day, he will be the youngest ever rider to start in the intermediate class. In addition, Italian Alessandro Andreozzi of the Andreozzi Reparto Corse team will be entering as a wild card on board his FTR machine.