Pedrosa makes up for Misano disappointment in Aragón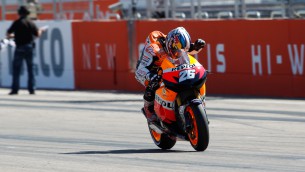 Sunday
, 30 September 2012
Dani Pedrosa returned from his Misano non-finish to take victory in Sunday's Gran Premio Iveco de Aragón, overhauling title rival Jorge Lorenzo before winning by 6.4 seconds. The Repsol Honda Team rider, who had started second at MotorLand Aragón, now trails his Yamaha Factory Racing opponent by 33 points.
The result marks Pedrosa's fourth win of 2012 and 19th of his MotoGP™ career, one day after celebrating his 27th birthday.
"It was good overall, especially after all of the problems at the last race," he commented. "This weekend I had a crash and broke one bike, so it wasn't easy for the mechanics, but I was calm and well-focussed. I started well and was able to stay with him and keep the pace."
Pedrosa stole the lead from Lorenzo at Turn 12 on the sixth lap, then extended the margin which became only greater when the latter suffered a large slide at the first corner.
"I tried to maintain my rhythm and put some good laps in, so I was able to open up a good gap and the bike was working quite well," Pedrosa continued. "The bike was working well overall and especially in the corners. Thanks to all of the mechanics, my fans and my family – this victory is for them."