Rookie honours at stake as Phillip Island awaits Moto3™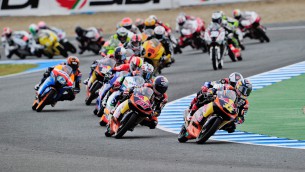 Wednesday
, 24 October 2012
With the title already sealed by Red Bull KTM Ajo's Sandro Cortese last weekend in Sepang there is now another honour to fight for at this weekend's AirAsia Australian Grand Prix in Phillip Island, namely that of Rookie of the Year, which currently sees Estrella Galicia 0,0's Alex Rins and Team Italia FMI's Romano Fenati neck-and-neck only two points apart.
Rins, currently fourth in the table, has been more consistent of late, finishing in the points in the last seven races, while Fenati has had two DNFs in the same period. Fenati will however be the slight favourite, as he has shown that when on song, he can fight with the best of them. Away from the Rookie melee, and RW Racing GP's Luis Salom looked to have second place in the table firmly tied up, after the shock announcement by Maverick Viñales that he had quit his Blusens Avintia the evening before the Malaysia round. Viñales was however quick to issue a formal apology, and has stated he will turn up in Phillip Island to fight for second place in the table.
His future plans remain unclear at present, and the team is yet to announce whether a replacement rider will contest the Australian round. With a competitor such as Viñales out of the way, this will lend further impetus to the likes of AirAsia-SIC-Ajo's Zulfahmi Khairuddin and Red Bull's Danny Kent, who have both shown terrific form of late, and will no doubt see them in the podium hunt once more.
One of the main protagonists however could be Mapfre Aspar Team Moto3's Jonas Folger, with the German having led most sessions in Sepang, only to miss out on the win due to what he claims was a wrong direction in bike set-up. And whilst his compatriot Cortese has already been crowned world champion, there is no doubt he will continue fighting for the win to highlight not only why he is the title holder, but also why he deserves his already sealed spot in Moto2™ next season.
There will be two wildcards taking part in the race in the form of British rider Sam Clarke on his Fastline GP Racing Suter and K1 Racing's Australian Lincoln Gilding on a Honda. IodaRacing Project's Luigi Morciano will not take part due to injury and will not be replaced.