Barberá equals season best in soaking Sepang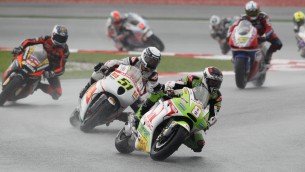 A difficult race at the Malaysian Grand Prix, affected by torrential rain, a raft of crashes, and a red flag that broke off the 16th round of the 2012 MotoGP World Championship at the Sepang circuit, saw Pramac Racing Team's Héctor Barberá equal his season-best result in seventh.
In a race that was declared wet from the start, the Pramac Racing team rider got a good start, moving into sixth, but then found a small issue with the electronic control unit, losing important positions as consequence. Lap after lap, with the rain getting heavier, the Spaniard was able to find a good rhythm with his Ducati, keeping his bike upright and gaining some places.
With seven laps remaining, the race was red-flagged (due to safety reasons) and was interrupted. Barberá finished his Malaysian weekend in seventh place, equalling his best result in this 2012 and taking home some important points for the world ranking.
Héctor Barberá
"I'm obviously happy for the seventh place. It was my goal, even if I thought I could catch it in a dry race. We worked well during the whole weekend and I was sure I could achieve a positive result. But the rain arrived and I was a little bit concerned about it because I certainly did not have the same great feeling with my Ducati in the wet. Fortunately, on the contrary, during the race I got my confidence back and I was able to stay on the bike, finishing the race and achieving a satisfying result."
Press release courtesy of Pramac Racing Team.
Latest news
Thursday, 23 October 2014

Wednesday, 22 October 2014

Saturday, 18 October 2014

Thursday, 16 October 2014

Wednesday, 15 October 2014

Saturday, 11 October 2014
Read more »
Thursday, 23 October 2014

Wednesday, 22 October 2014

Saturday, 18 October 2014

Thursday, 16 October 2014

Saturday, 11 October 2014
Read more »