Stoner on a mission as Iveco TT Assen kicks-off MotoGP™ busy-season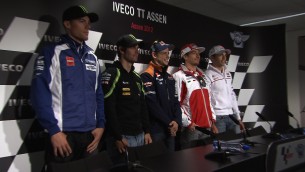 Reigning World Champion Casey Stoner was joined by Cal Crutchlow, Nicky Hayden, Ben Spies and Michele Pirro at the press conference on Wednesday marking the seventh round of the MotoGP™ World Championship at the Iveco TT Assen, which is the first of three races on successive weekends.
Repsol Honda Team's Stoner, who currently lies 25 points behind Yamaha Factory Racing's Jorge Lorenzo is looking to claw back some points on his Spanish rival for his title defence. The Australian commented: "We've had a tough few races, things haven't gone really to plan and we've given it everything we have, but we didn't really get the results we wanted. In general we can't really complain, we've still be on the podium, we've still been getting good points, except for one. It makes things tough for this second part of the season; we just need to pick up our performances a bit and get a bit more comfortable with the bike."
Heading into the weekend the double world champion is still concerned about his bike's chatter problems: "Chatter's the first and foremost [problem] and as we've improved the rear chatter and understanding of what's causing it, with this new front tyre - we felt from the first minute we tested it - it made things a lot worse. Every step Bridgestone are taking is making it a lot more complicated for us. But I suppose it makes the challenge bigger and if we can at least take the fight to the championship towards the end then I think it'll be a great achievement, because everything seems to be staking up against us at the moment."
Monster Yamaha Tech 3's Cal Crutchlow, who bravely contested the last round with a fractured ankle, is currently leading the charge for fourth in the table. After two weeks of rest he is in slightly better shape heading into the Assen race. He said: "It's not been too bad, my ankle is coming along good. I went back to the Isle of Man and used the hyperbaric chamber there to get the swelling down. Luckily I didn't have to have any surgery on it. As you could see in Silverstone it didn't hinder me too much in the race, but it's still a bit sore to walk on."
One talking point over the past weeks has been the pre-Silverstone test the Brit had to pass. "It wasn't that nice. They made me run the length of this room about four times. Wasn't really a run, but more of a hobble, and do some foot raises. I think they were right to. The medics at the circuit and the Clinica Mobile did a fantastic job. The main concern was not for me, but the other riders – if I can't get out of the way on the track if I had a crash or something because I couldn't run because of my ankle."
And lastly he quashed any rumours about a possible factory switch: "I'm going to do the best job I can for Monster Yamaha Tech 3."
Ducati Team's Nicky Hayden, who has won at the Assen track in the MotoGP class once in 2006 is a big fan of the Dutch circuit. He stated: "Definitely some good memories here. This track has always been one of my favourites. Last year was ok on the Ducati; I got fifth, but obviously 2006 is the one I prefer to remember. It's not been an easy season but that's how they go. Every now and then we get a little momentum and feel like we're getting a few gains, but these guys aren't sitting still. In Silverstone until the tyre went away, the first five or eight laps, were as quick as I've been on the Ducati in a long time and quite enjoyed it. We need the grip, and when it goes away I think we maybe suffer more than others."
Ducati had announced a radical upgrade for the Laguna Seca round late in July, but the American remained coy on the matter: "Maybe we'll have some more upgrades for Laguna, but definitely I don't know about new bike, new engine. Laguna's not really in the plan. Maybe we'll have some updates when we test in Mugello in the week off, but there won't be a radically new bike. We need to keep working with what we've got."
Yamaha Factory Racing's Ben Spies, who has endured a difficult season so far, apart from his fifth place last time out at Silverstone, is looking for three good results to get his season firmly back on track.
"It's not just been bad luck so far, it's been a lot of itty bitty things going on, but that's just the way it goes. You've got to remind yourselves of the last ten years you've been racing and remind yourself that things don't always go to plan. The last four to six weeks we've been getting a lot more comfortable on the bike and the last race at Silverstone was pretty good. Now we're back here at one of my favourite tracks."
When prompted about speculation about his future next season, Spies replied: "That's racing, that's normal. As soon as Jorge signed, everybody's in a big scramble; and that's how it works. I need to worry about me and the bike and my results. That's all we can do."
San Carlo Honda Gresini's CRT entry Michele Pirro, who has been getting progressively better all season on his FTR-Honda machine, joked at the start: "Sorry for my English, but I'm improving, like my bike. The start of the season was not easy as we only had one test in Jerez. The first two races were difficult, as we didn't finish due to a problem on the bike. But after the bike improved a lot and my feeling now is not so bad. In the last two races we finished very close to the ART. I like this track, but it's not easy with the CRT to challenge the factory bikes, but I'm working towards finishing as top CRT."
Photos:
Latest news
Saturday, 18 October 2014

Thursday, 16 October 2014

Wednesday, 15 October 2014

Saturday, 11 October 2014

Wednesday, 1 October 2014

Monday, 29 September 2014
Read more »
Saturday, 18 October 2014

Thursday, 16 October 2014

Saturday, 11 October 2014

Wednesday, 1 October 2014

Tuesday, 30 September 2014
Read more »