MotoGP™ stars gather for pre-Estoril press conference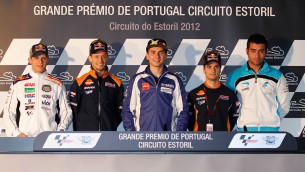 The MotoGP™ contingent was back for round three at the Grande Prémio de Portugal Circuito Estoril, where championship leader Jorge Lorenzo was joined by reigning World Champion Casey Stoner, Dani Pedrosa, Stefan Bradl and CRT entry Danilo Petrucci at the pre-race press conference this Thursday.
Factory Yamaha´s Jorge Lorenzo, who won three years in a row at the Portuguese circuit between 2008 and 2010, leads the championship standings by just four points ahead of Repsol Honda´s Stoner. Having narrowly missed out on the win in Jerez, Lorenzo is looking to rekindle his previous winning ways at the Portuguese track.
He stated: "Estoril is one of my favourite tracks, especially in the MotoGP era for me. Last year was a difficult race, I struggled a lot to keep leading the race and Dani [Pedrosa] seemed a little bit more comfortable behind and he passed me four laps before the end and I couldn't follow him. But I was able to be competitive again also last year, so I think this track is good for us and we will see what happens this year."
Estoril is now the only track on the current MotoGP calendar where Stoner has not had a premier-class win, and the Australian is looking to change not only this, but also take the lead in the championship. He highlighted the importance of bike set-up at the circuit: "It's a complete circuit. You do have everything, every style; you have up and down corners, on-camber, off-camber, long and fast sweepers, and a big long straight into a hard-braking area. There are a lot of opportunities for overtaking on this track and also a lot of opportunities to make easy mistakes. So it's a track you need to have a very balanced bike at."
Stoner was also quick to quash rumours that he was planning to retire at the end of the current MotoGP season, saying that he had no such plans.
His team mate Dani Pedrosa, who has played third fiddle to Lorenzo and Stoner so far this season, is taking heart from the fact that he took victory at this track last year: "At the moment I think we are doing the right things. Still it's early in the season but obviously it is always important to do good. I think this is a good track; in the past I also did good races here, so I'm happy to be here and to try to ride again."
LCR Honda MotoGP´s Stefan Bradl, who has been in impressive form in his rookie season, taking an eighth and seventh place so far, is drawing on the fact that his last outing at Estoril was a victory, albeit in the Moto2™ class.
He commented: "We are doing not so bad at the moment, but at the beginning in the first couple of laps at Jerez I could see that the top guys were not so far away, but then in one lap they were just gone! It is sure something to do with experience but we have to put the things together because we still have some more potential in the bike, the riding style and me."
A first in the MotoGP pre-race press conference was Came IodaRacing Project´s Danilo Petrucci. The Italian recorded a great result at Jerez in 13th as the second CRT bike, despite having a significant horsepower deficit over his rivals. He is now looking to build on this performance at Estoril: "In Jerez we scored our first world championship point. Our bike is young, only three months old. As many people know, we ride with a standard engine with just 185 horsepower, so a big difference between the MotoGP bikes and the CRT bike. For me the track is new as are many tracks this year, so I will try to learn fast and, as I say, to score points on Sunday. Just to be here is a dream for me."