A first taste of MotoGP™ MultiScreen Player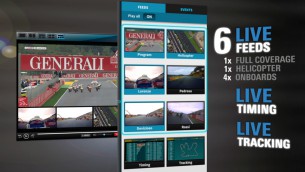 From the 2013 season, motogp.com is excited to introduce you to the brand-new MultiScreen Player - allowing you to get just that bit closer to the action. Become your own director, selecting camera angles and audio feeds during both live, uninterrupted action and fully interactive, on-demand replays.
The MotoGP™ MultiScreen Player allows you to be in the hotseat more than ever before, whether it be for practice sessions, Grands Prix or new-look qualifying.
The MultiScreen Player will bring the following features:
- 6 live video feeds, including onboard and helicopter angles
- Live timing and GPS tracking of all bikes
- Customisable layout options to watch more of what you want
- Audio mixer; listen in to commentary, ambient or onboard sound
- Alternative angles of the action, exclusive to the MultiScreen Player
- New on-screen graphical analysis of vital moments
Full details on availability and pricing will be coming soon, but Full Season VideoPass subscribers can enjoy an exclusive free trial for the season-opening night event in Qatar.
Photos:
Latest news
Wednesday, 17 December 2014

Saturday, 13 December 2014

Wednesday, 10 December 2014

Saturday, 6 December 2014

Wednesday, 3 December 2014
Read more »
Thursday, 4 December 2014

Thursday, 27 November 2014

Tuesday, 25 November 2014

Wednesday, 19 November 2014

Tuesday, 18 November 2014
Read more »