Ambrogio Racing switches to Mahindra bikes from Misano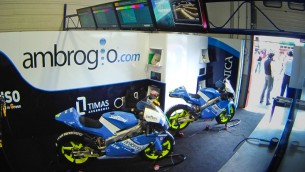 Moto3™ outfit Ambrogio Racing has announced that it will be competing with Mahindra motorcycles from as early as the next round of the season at Misano. Ambrogio is currently running South Africa's Brad Binder – already renewed for 2014 – and Germany's Luca Amato, who replaced Great Britain's Danny Webb.
The change will see the Italian team trade in its current Suter Hondas for the Mahindra package, with immediate effect.
'After a highly successful debut in the ultra-competitive Moto3™ Grand Prix class, Mahindra Racing is pleased to confirm that it will now supply two 2013 Mahindra MGP3O racers to Ambrogio Racing, the team's first Moto3 customer,' a statement confirms. 'Ambrogio Racing will introduce their new Mahindra bikes to the grid at Misano in two weeks time for the Grand Prix di San Marino e della Riviera di Rimini. The team's German rider, Luca Amato, and South African teammate Brad Binder will switch to the MGP3O for the remaining six Moto3 races of 2013.'
The agreement means that no less than five Mahindra bikes will be on the grid at Misano next weekend, as Binder and Amato share the circuit with factory-entered Mahindra Racing riders Miguel Oliveira and Efren Vazquez as well as wildcard Andrea Locatelli, who is the current leader of the CIV championship in Italy.
"So far this season we have definitely proved the reliability and performance of the MGP3O," says Mufaddal Choonia, CEO of Mahindra Racing. "We are confident of further improvements and there is a lot of development work still underway in Switzerland and India at the moment. There has been a great deal of interest from other teams and we are very excited about seeing five Mahindra MGP3O machines on the grid at Misano. We are looking forward to a fruitful partnership with Ambrogio Racing. I can say that this is almost something historic for Indian automotive engineering."
"Improving the team's performance is our constant target, as we want to give our riders the best possible chance of showing their talent," adds Fiorenzo Caponera, team owner of Ambrogio Racing. "Mahindra is a recent name in the World Championship, but its commitment and excellent results so far this season make it the perfect choice for our programme."
In the hands of Oliveira in particular, the factory-entered Mahindra has already proven rapid on numerous occasions this year, such as when the Portuguese rider clinched pole position at Assen as well as three other front row starts.
Latest news
Saturday, 13 December 2014

Wednesday, 10 December 2014
Read more »
Thursday, 4 December 2014

Thursday, 27 November 2014

Tuesday, 25 November 2014

Wednesday, 19 November 2014

Tuesday, 18 November 2014
Read more »