Bautista 'feeling more support than last year'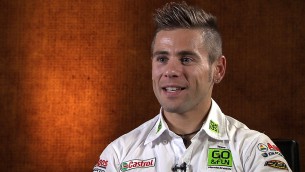 Álvaro Bautista has discovered a renewed optimism for the 2013 MotoGP™ season, having signed a fresh two-year deal with GO&FUN Honda Gresini that takes him through to the end of 2014. With several doubts now out of his mind, the Spaniard is able to mix development work with his passion to succeed.
Last year saw the Talavera de la Reina rider notch up his best campaign to date, ending the season inside the top five of the Riders' Championship for the first time since he stepped up to the premier class in 2010. Having experienced much confusion and tension towards the end of 2012, Bautista's mind is now in a better place.
"It was a very delicate situation because, by the end of last year, I had made up my mind that I wanted to use Öhlins (suspension)," he continues. "I would know that - if the bike was not working well on a given circuit – it would have been nothing to do with the suspension, so I did want to be with Öhlins for 2013. But Showa insisted very much and they have worked really hard over the winter.
"HRC (Honda Racing Corporation) is also very interested in having a Japanese suspension brand working at a good level, so in the end what happened is that they told me: 'If you are to keep working with us, we want you - as a rider - to help us develop the suspension'. The problem is that…if I was to spend this whole season developing the suspension without actually achieving good results, nobody would be able to secure me a place in MotoGP for 2014. So we came to an agreement. They decided they would keep me as a rider to help them develop the Showa suspension, but as a reward they offered me an extension of one more year on my contract.
"Let's just say that it was an agreement whereby all three parties had to give in a bit to get what we all wanted, but I am convinced that this year will be different because I have seen a change of attitude from Showa and HRC and I feel they're supporting me more than last year."
The full video interview with Álvaro Bautista – in which he also discusses rumours about his future towards the end of 2012 – can be watched now on motogp.com.