Bradl hails challenging COTA corners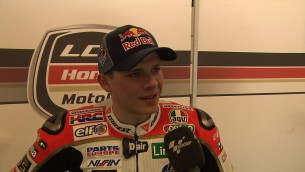 Stefan Bradl was one of several riders who had a chance to enjoy Austin's Circuit of the Americas (COTA) on Tuesday, as his LCR Honda MotoGP team attended this week's private test. Anti-clockwise in configuration and boasting numerous changes in elevation, the Texan track becomes the third-longest on the calendar.
Bradl's day finished in fourth position, although the timesheets were of little significance as those present tackled the testing circuit for the first time.
"When I first saw the track and went around it, I thought it was quite difficult," the German admitted in an exclusive video interview with motogp.com. "We had really low grip and it was a bit cold, but the sun came out so we got proper track temperature and grip during the day. I think it's a nice track. It was a bit difficult to find the right line at the beginning, but that's quite normal and after a couple of laps I was able to go faster and faster and generally enjoy the track – it's very nice, but not easy!"
Agreeing with Tuesday pace-setter Marc Márquez, the Moto2™ World Champion of 2011 went on to explain that the most challenging section is that of the sweeping downhill curves.
"The most difficult bit is definitely Turns 2, 3, 4 and 5, where you have to change direction many times and very quickly," Bradl recalled. "You have to be very precise and make sure you enter that section on the right line; if you get it wrong, the lap is gone, so that is one of the most challenging parts. The first corner is very nice too: you can brake so late and it's going uphill, so you almost start flying over it! I'm looking forward to racing here."
Bradl will be back on-track as the private test continues on Wednesday.
Latest news
Thursday, 22 January 2015

Thursday, 4 December 2014

Thursday, 27 November 2014

Tuesday, 25 November 2014

Wednesday, 19 November 2014

Tuesday, 18 November 2014
Read more »