Schouten targets points finish at home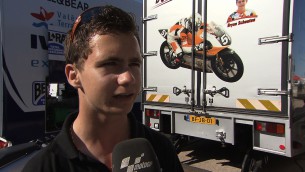 The Iveco TT Assen will see The Netherlands' Bryan Schouten competing in the lower class of the World Championship for the third time. During a season in which he is shining in both the Spanish and German championships, the 18-year-old is aiming for points in his sole Moto3™ appearance of the year.
The Netherlands is currently experiencing a shortfall in home-grown talent when it comes to the World Championship, with the last race victory for a Dutchman having been that of Hans Spaan in the 125 class at Brno in 1990. The only current Dutch representative across the three classes is Moto3's Jasper Iwema.
The Bryan Schouten journey began in 2011. At just 16, he triumphed in the final Dutch 125 championship before making his World Championship debut at Assen. In 2012 he defended his national title in what had by then become the Moto3 tier of the Dutch series, as well as finishing third overall in the German series. This season he has been a standout performer in Spain's CEV Repsol, in which he has already celebrated two podiums, while also battling for wins in Germany.
"The CEV Repsol season has started very well," he comments. "In Catalunya, when it was wet, I achieved a sixth place and a second and came out of it as the championship leader. That lead was then lost because I crashed in Aragon."
Having since finished second at Albacete, Schouten continues about the CEV Repsol: "Everything was new when I arrived. I came from the IDM and I didn't really know what to expect. The level here is incredible, especially in the top five. My goal is to keep learning and achieve as many podium finishes as possible."
This weekend, Schouten will participate in a World Championship race at his home circuit of Assen for the third time.
"I'm in very good shape and the bike is going very well – the FTR is amazing," he begins to sum up. "Of course I will do my best and my aim is to be inside the top 15 to be able to score my first World Championship points."
Opening practice for Moto3™ gets underway on Thursday at 9am local time (GMT +2).
Photos:
Latest news
Monday, 22 September 2014

Friday, 19 September 2014

Thursday, 18 September 2014

Wednesday, 17 September 2014

Tuesday, 16 September 2014

Monday, 15 September 2014

Sunday, 14 September 2014

Saturday, 13 September 2014

Wednesday, 10 September 2014
Read more »
Monday, 22 September 2014

Friday, 19 September 2014

Wednesday, 17 September 2014

Tuesday, 16 September 2014

Monday, 15 September 2014

Sunday, 14 September 2014

Friday, 12 September 2014

Wednesday, 10 September 2014

Tuesday, 9 September 2014
Read more »