Comeback in May: Tom Lüthi looking ahead
Moto2™ is powered by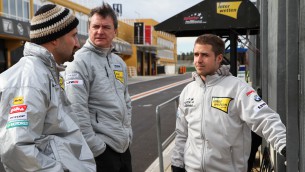 Wednesday
, 20 February 2013
Team Interwetten Paddock rider Tom Lüthi looks ahead and is already thinking of his Grand Prix comeback. The 26-year-old from Switzerland, who suffered multiple fractures of his right elbow, upper arm and shoulder in a test crash at Valencia last Thursday, will soon start a rehabilitation program following his successful surgery. If everything goes according to plan, he could return to racing at the first European Grand Prix at Jerez on May 5th.
Dr. med. Marc Mettler, chief physician at the hospital of Münsingen/Switzerland, and his team had screwed and plated the fractures early Saturday morning in a five-hour operation, and were satisfied with the result. Lüthi will re-gain full mobility in his right arm, according to Mr. Mettler's prognosis, but the recovery will take anything from eight to 12 weeks, which means that Lüthi will miss the season's opening race at Qatar on April 7th as well as the second Grand Prix in Austin/Texas on April 21st, before making his comeback in May 2013.
The long absence from racing is due to the complexity of his fractures in the upper arm and, most importantly, the elbow region. As soon as his considerable swellings will subside, Lüthi will start to mobilise the joints in elbow and shoulder, first with passive, then with active movements. Only once he is able to train towards his comeback with more intensity, reliable predictions about a date of his return to racing will be possible. In order to get Lüthi onto a path of recovery as quickly as possible, his doctor recommended complete rest and the team cancelled all commitments of the next days and weeks.
"Of course this injury is a big disappointment for me", said Lüthi. "But with my doctor of confidence, Dr. Marc Mettler, I am in the best hands and I am optimistic to be able to start the rehab program and the work toward my comeback very soon. It was very nice to feel so much compassion, which motivates me even more to work hard for a speedy recovery!"
"Tom's recovery is our top priority and his absence from racing is of minor importance to us", said team owner Daniel M. Epp. "But obviously, we have to prepare for the fact that he will miss the season opening races, which is why we are looking for a replacement rider for the last official IRTA test session at Jerez and for the first two Grand Prix in Qatar and Austin. A suitable rider will enable us to continue with our testing program and also will allow us to practise a smooth work flow in the garage so the technicians will also be fully fit when Tom returns!"
Press release courtesy of Interwetten Paddock.
Latest news
Saturday, 31 January 2015

Thursday, 29 January 2015

Thursday, 22 January 2015

Wednesday, 21 January 2015
Read more »
Thursday, 22 January 2015

Thursday, 4 December 2014

Thursday, 27 November 2014

Tuesday, 25 November 2014

Wednesday, 19 November 2014

Tuesday, 18 November 2014
Read more »