Crutchlow left to regret unforced errors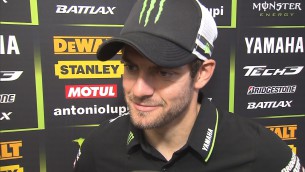 Saturday
, 28 September 2013
Since the Gran Premio Iveco de Aragón weekend began, Cal Crutchlow and Monster Yamaha Tech3 have suffered from a lack of straight-line speed on the kilometre-long back straight of MotorLand Aragón. After making mistakes the Englishman will start from seventh on the grid, his worst Saturday result of 2013 thus far.
Prior to this weekend, Crutchlow had never qualified outside of the top five in 2013, meaning his Aragón grid position is his worst since Indianapolis last year.
"We had a bad day," Crutchlow told motogp.com during a video interview. "It was a bad qualifying, for sure, and my worst of the year. I made mistakes on every fast lap. I wasn't happy with the bike setting and we should be a long way ahead of where we were. If I hadn't have made the mistakes on the three fast laps I believe I would have been further up; it's okay saying it, but I wasn't, so I will have to get a good start tomorrow and see if we can make some good progress."
Summing up the weekend's performance up to this point, the Englishman continued:
"I would prefer to have a fast bike than a bike that is so slow. I lose two tenths in one straight line, which means you have to make up two tenths in the corners against the best guys in the world. I'm not very happy with the speed of the bike this weekend."
More positive was teammate Bradley Smith, who progressed to the top 12 qualifying shootout from Q1 and will begin Sunday's race eighth, one place behind Crutchlow.