Crutchlow searches for better suspension settings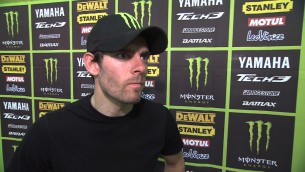 Wednesday
, 27 February 2013
Cal Crutchlow made the top three as MotoGP™ testing continued on Wednesday, lapping Malaysia's Sepang International Circuit some 1.3 seconds quicker than on the previous day. Having compared his suspension settings with those of Jorge Lorenzo on the Yamaha Factory Racing bike, the Englishman is yet to find the sweet spot.
Crutchlow's lap for third place came in the shape of 2'00.907, which was sixth tenths slower than Lorenzo's best ever lap of the Malaysian track.
"There didn't seem to be a lot of grip out there again today, although the lap times have improved a lot," the Monster Yamaha Tech 3 rider began. "We tried something different with the front fork setting, which was in a similar direction to what Jorge uses, and there were some good and bad points - like with most things you test.
"I'm happy with my pace because we've tried a couple of different settings and we need to work on fine-tuning the best one. The main goal has been trying to stop the front of the bike lifting so much when I change direction on the throttle.  The bike feels quite heavy so we need to reduce how much the fork comes up without sacrificing too much in another area like the braking.
"I'm sure if I had put in some new tyres at the start of the day I could have gone faster, but I waited to use mine around lunch and I still went faster."
The Coventry-born rider added that he could have been even quicker - had he fitted new tyres earlier in the day - but that times are not of major significance at present. Further back, rookie teammate Bradley Smith continued to impress. Focussing on braking technique following a slip-up on Tuesday, he again finished in the top ten.
"After the crash yesterday I am feeling much happier today, though I'm a little bit wary of some things that happen with the front and that can play on your mind a little bit," explained Smith, who hails from Oxford. "I'm being too cautious at the moment and not using the carbon brakes as they need to be used. We played around with some different settings to gain more of an understanding about what direction we can take in the future, if we have certain problems."
Thursday will bring the third and final day of testing this week, with running again taking place between 10am and 6pm local time (3am-11am CET).
Latest news
Thursday, 19 February 2015

Wednesday, 18 February 2015

Tuesday, 17 February 2015

Thursday, 12 February 2015

Wednesday, 11 February 2015

Tuesday, 10 February 2015
Read more »