Danilo subs for Webb up to Indianapolis
Moto2™ is powered by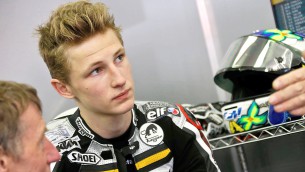 Ambrogio Racing has announced that Jules Danilo will be racing in this weekend's Moto3™ eni Motorrad Grand Prix Deutschland, covering for the injured Danny Webb who has sustained a fractured radius in his right arm. Furthermore, the Frenchman will remain alongside Brad Binder for the following race at Indianapolis.
Webb crashed last time out at Assen and was then attended to by his trusted specialist doctor, who advised that no stress should be placed on the injury so soon after the accident. The Ambrogio outfit has now confirmed that it is Frenchman Danilo who will be covering for the Englishman.
'According to the medical certificate that Danny Webb communicated to the team, the impossibility could extend itself up to shortly before the Indianapolis Grand Prix,' a press release reads. 'Therefore, given that the Indianapolis GP is very complex to organise as far as logistics are concerned, the replacement is extended to it.'
The Sachsenring outing for Danilo will be only his second in the championship, after Le Mans where he entered as a wildcard for Marc VDS Racing Team.
Latest news
Saturday, 13 December 2014

Wednesday, 10 December 2014
Read more »
Thursday, 4 December 2014

Thursday, 27 November 2014

Tuesday, 25 November 2014

Wednesday, 19 November 2014

Tuesday, 18 November 2014
Read more »